Book Release // 10fold - Stories against Discrimination
Wann? Do, 1. Dezember 2022, 19:00 Uhr
Wo? Brunnenpassage, 1160 Wien
*** Über das Event ***
Wir feiern die Ergebnisse unseres Projekts *10fold - Stories against Discrimination*! Neben der Buchpräsentation stehen Live-Drawing, Musik von Xéna N.C. und eine Ausstellung auf dem Programm. Und schließlich wollen wir jene Menschen, ohne die dieses Projekt nicht möglich wäre, vor den Vorhang holen: Die inspirierenden Protagonistinnen der 10fold Geschichten.
Die Veranstaltung ist kostenlos und offen für alle Interessierten (und jene, die es noch werden wollen ;-))
*** Über das Buch ***
10fold - 10 Frauen*, 10 Comics, 10 Lebensgeschichten. Basierend auf qualitativen Interviews entstand im Erasmus+ Projekt ein Buch, das Einblicke in die Lebensrealitäten von Frauen mit Migrationserfahrung in Europa gibt. Die Geschichten nehmen die Leser*innen mit in die Straßen, U-Bahnen, Schulen oder Fitnessstudios von Wien, Bordeaux, Lagos oder Teheran und berichten auf kurzweilige, empathische und berührende Weise aus dem Alltag der Protagonist*innen.
*** Über das Projekt ***
"10fold - Stories against Discrimination" ist ein Gemeinschaftsprojekt des österreichischen Lernzentrums Orient Express, der französischen Bildungseinrichtung Cap Ulysse Carrières Internationales und dem österreichischen Verein Blickwinkel - Mut zur Perspektive.
Das Projekt ist ko-finanziert durch die Europäische Union.
Die Veranstaltung findet in Kooperation mit dem ArtSocialSpace Brunnenpassage statt.
Facebook-Event: https://fb.me/e/2hN1fGiNE
From April 14-15th we had our first in person meeting of all three partners of our new project 10fold. After many, many virtual calls in the last months we knew each other's apartment interior quite well. Therefore it was long overdue to get together in person. The meeting took place in Bordeaux in the South West of France, where our project partner Cap Ulysse welcomed us extremely warmly. They made sure that we were always well oriented, well fed, highly caffeinated and ready to work.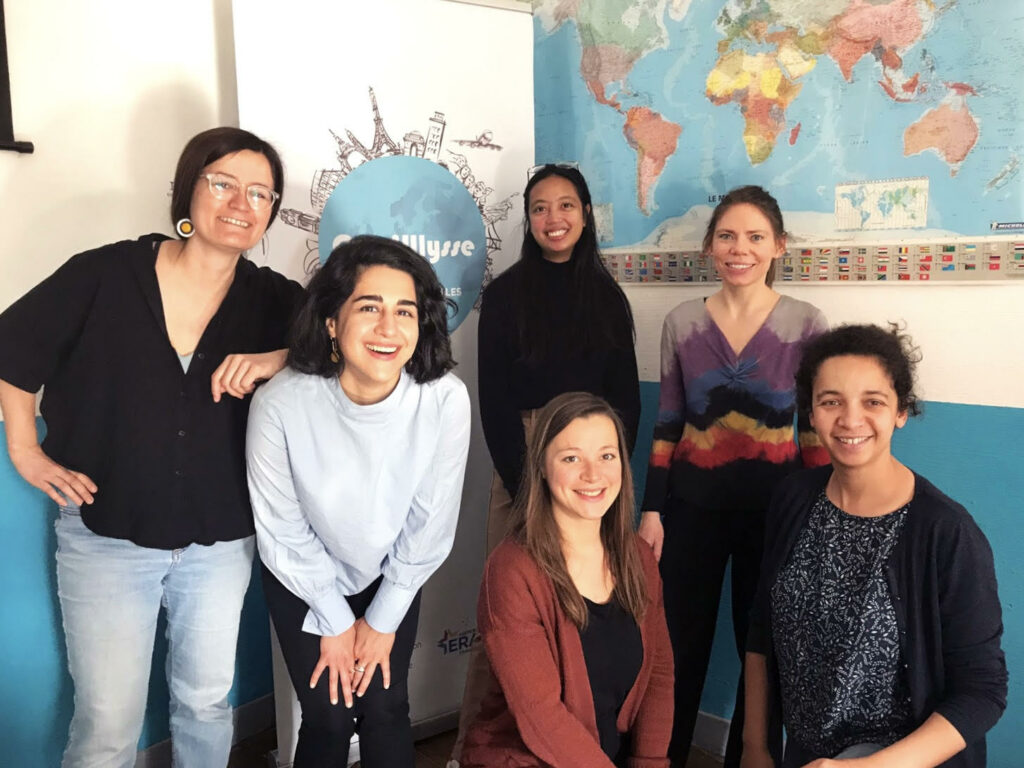 Over the course of two days, we discussed the progress of our project plan, the status quo of implementation as well as our next steps and future activities.
In the evenings we had the pleasure to stroll through the city and taste the delicious French cuisine – c'était magnifique!
We can't wait to host our French partners in Vienna in fall, but first we have some exciting project activities ahead of us. And some more Zoom calls. 😉
10fold is our first project co-funded by the EU and is happening over the course of 2022. Together, the three organizations Orient Express (Austria), Cap Ulysse (France) and Blickwinkel (Austria) are collecting 10 life stories and 10 comic stories based on the experiences of inspiring women. We are currently in the phase of interviewing and finding stories to write and draw about. Soon we will have some first sketches to show. Stay tuned. 🙂